INTERCURE has released another set of 'all time record quarterly' results, seeing both revenues and profits skyrocket year-on-year.
Despite its barnstorming results, which have helped its share price jump 20% since last week, CEO Alexander Rabinovitch says the company 'could do so much more if we had more supply'.
Alongside the strong growth in its native Israeli market, the company is continuing to push ahead with its international expansion plans targeting 'every country with a supportive regulatory framework'.
While the company says it is making 'great progress on this front', the upcoming launch of the UK's first physical medical cannabis pharmacy via its partnership with Cookies, looks to have been delayed.
First Quarter Results
In the three months to March 31 2022, Intercure reported revenues of $34.4m CAD, up 164% year-on-year and 9% from Q4 2021, another record breaking quarter.
In what the company said was the seventh consecutive quarter of positive cashflow, and ninth consecutive quarter of growth, gross profits also more than doubled year-on-year to $14.4m CAD, representing a margin of 41%.
While this was down on the 46% seen in the previous quarter, Intercure said that without the 'temporary negative impact' of the nine pharmacies in its 23-store estate which are currently in the process of receiving medical cannabis dispensing licences, gross profit margins would rise to 43%.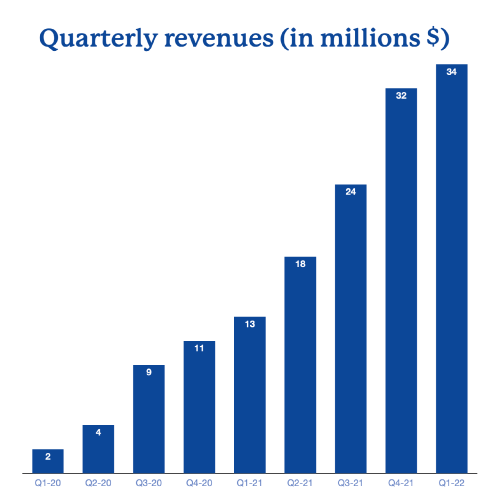 The company said it expects all of these pharmacies to begin trading by the end of 2022.
Adjusted EBITDA similarly more than doubled from $3.9m CAD in Q1 2021 to $8.4m CAD, though quarter-on-quarter gains were much more subdued than the nearly $3m CAD increase seen in the previous period.
The company attributed its strong revenues, which represent an annual run rate of over $32m CAD was driven by 'solid demand' for its wholly owned subsidiary Canndoc, the largest licensed cannabis producer in Israel.
It also noted the continued 'expansion of the medical cannabis dispensing operation', which saw it add three new locations to its roster during the quarter.
Ongoing Supply Issues
During an investor presentation held yesterday (May 17 2022), Mr Rabinovich said that the company is keen to use its strong cash position, which currently stands at $91m CAD, to fuel further expansion in Israel and internationally.
While Intercure believes it has the available cash and product demand to grow even more rapidly, Mr Rabinovich told investors the company was hampered by supply.
He said that while the company is continuing to scale its international supply chain, 'we are still far away from meeting the strong demand for our products, even in the Israeli market'.
"In fact, we could have so much more if we have more supply."
According to Mr Rabinovich, new import regulations coming into force 'by the end of this month' could bring new 'barriers and complexity to the already complex importation process'.
While he cautioned that this new system could 'have an impact on the local market', Intercure said it was 'well prepared for the changes'.
"We have invested heavily in scaling up our depth and reach of domestic supply chains and we're the largest cultivator in Israel."
He added that his teams were working diligently with top pharmaceutical labs to meet these requirements, and he was confident that Intercure will once again be the first Israeli company to import cannabis under the new regulations.
CBD Market
Elsewhere on the homefront, Intercure says it plans to capitalise on the country's recently announced plans to remove CBD from the Dangerous Drug Ordinance list.
The Israeli Health Ministry is reportedly expected to implement regulation of the CBD market in June 2022, and Intercure says it aims to be the first company to register CBD products for sale in the country via a new 'definitive agreement' with Altman Health.
Meanwhile the company says its global expansion plans are 'on track', with plans to launch its first retail location outside of Israel in the second quarter.
During an interview with BusinessCann in January, Mr Rabinovich said its first two international stores, Cookies branded medical-cannabis dispensaries in Vienna and London, were due in Q1 of this year.
It's not clear why this rollout has been delayed by a number of months. BusinessCann has contacted Intercure for comment.
Though the company is yet to establish its own retail presence internationally, Intercure announced the acquisition of Better, which has a significant presence in Australia, is on track to close in Q3 of this year.
Furthermore, Intercure announced a major strategic partnership with multinational operator Clever Leaves in March, a deal Mr Rabinovich says allows the company to grow rapidly without the major investment in infrastructure.